Kendall Jenner Diet & Workout Routine: How To Get Her Figure!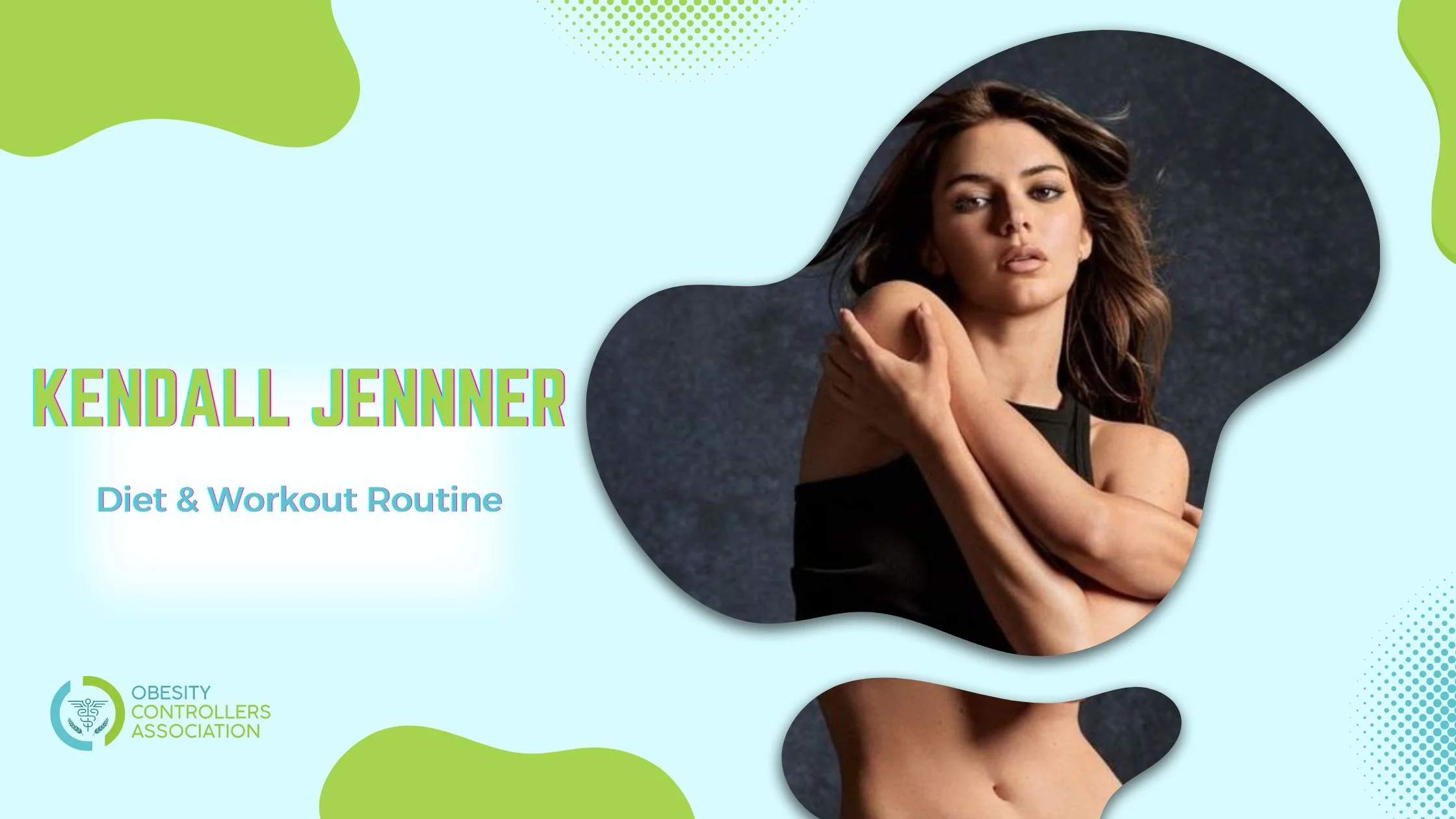 Do you want a body like Kendall Jenner's? Are you seeking some diet and fitness methods to lose weight? If yes, this article is for you.
Being one of the youngest members of the Kardashian family, she has already earned her place in stardom. She is one of the top-most paid supermodels in the world. What is the secret behind her flawless look?
Molding a body like Kendall Jenner's is not a Herculean task. Kendall follows a relatively simple diet and fitness routine. More than the intensity of these approaches, what she believes is in consistency. Go through the article to know the diet and workout routines of Kendall Jenner. Also, learn to implement them in your own life.
About Kendall Jenner
One of the world's highest-paid models, Kendall Nicole Jenner is a member of the famed Kardashian family. Apart from modeling, she is also known as an acclaimed media personality and a socialite. She started her career journey at the age of 14. She has worked for almost all the big names in fashion.
Kendall's career saw a kickstart when she appeared on the cover of US Teen Vogue and Miss Vogue Australia. Right now, she is one of the most sought-after models in the industry. She has worked with iconic fashion brands such as Victoria's Secret, Vogue, Estée Lauder, etc.
Kendall Jenner Body Measurements
| | |
| --- | --- |
| Height | 5 foot 10 inches (179 cm) |
| Weight | 54 kilos (119 pounds) |
| Body Measurements | 34-24-34 |
| Chest Size | 34 inches (86cm) |
| Waist Size | 24 inches (61cm) |
| Hips Size | 34 inches (86cm) |
| Figure or Body Shape | Hourglass |
| Build | Voluptuous |
| Distinctive Features | Height |
| Eyes Color | Brown |
| Hair Color | Brown |
Kendall Jenner Diet Plan
Being one of the finest supermodels, Kendall needs to keep her good looks. She is genetically blessed to have a spectacular body and appearance. Still, without a proper diet and fitness routine it cannot be maintained properly. Being a busy working woman, the diet of Kendall Jenner is adapted to her lively schedule.
Here is a peek at her diet routine and how it helps her to maintain a slender physique and overall health.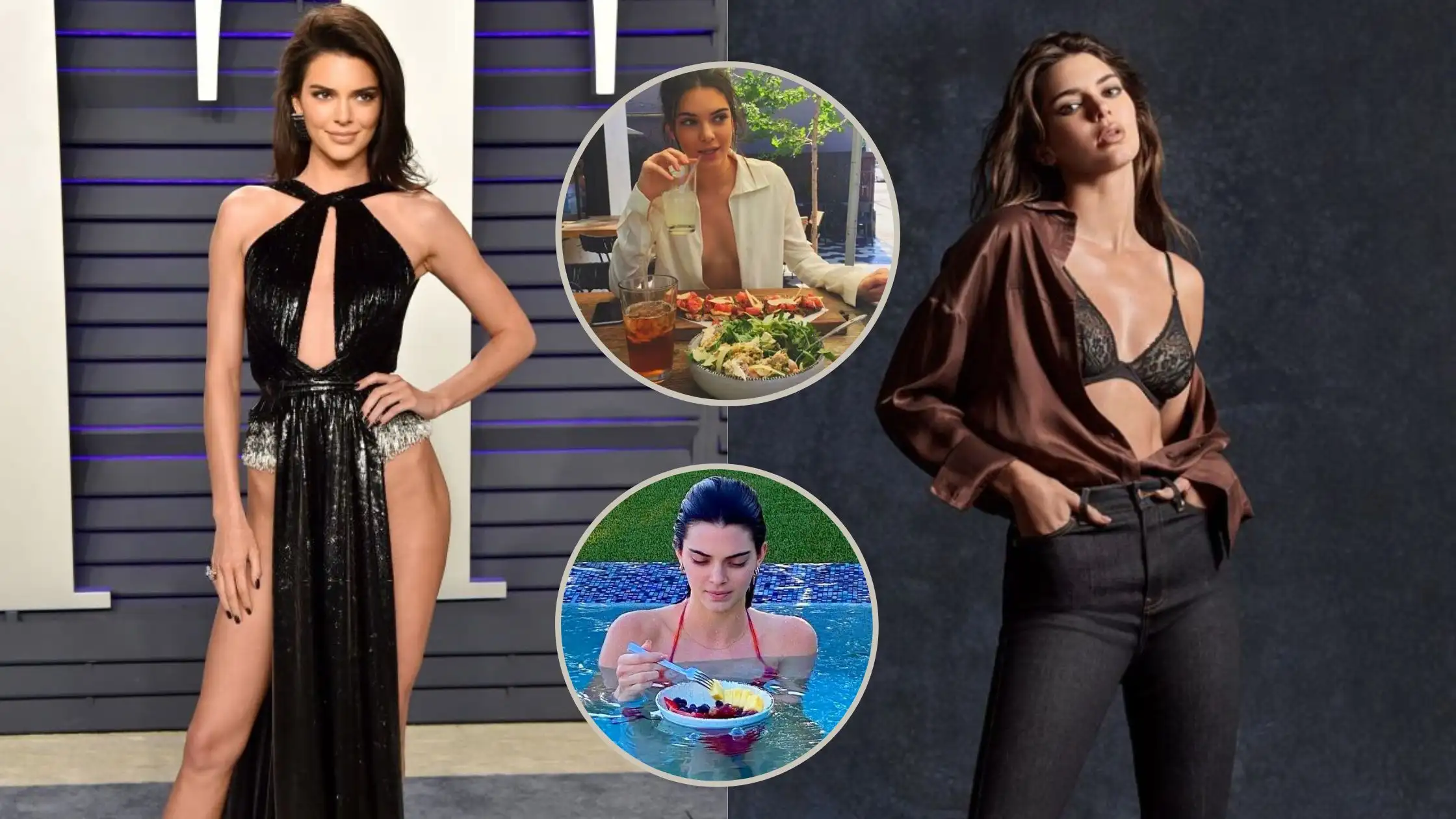 Morning snack: Lemongrass detox tea- Studies show that lemongrass tea is an ideal option if you are planning to detox your body. It can also kick-start your metabolism and thereby help you lose weight.
Breakfast: Oatmeal bowl and avocado over eggs- Oatmeal is abundant with healthy fiber which can be beneficial for your health in many ways. Eggs and avocados are packed with protein which can provide the necessary amount of nutrients for your body. This kind of breakfast can keep you full throughout the day and reduce any kind of unwanted appetite and cravings.
Lunch: Brown rice with lean chicken or a salad: This lunch option by Kendall Jenner is low in calories and is a source of healthy protein. Brown rice has more dietary fiber than normal white rice. So these food items can keep you full for longer and thereby aid in weight loss.
Snacks: Tortilla chips with guacamole, Carrot sticks with hummus, and peanut butter- Kendall believes in snacking up frequently to balance the blood sugar levels in her body. These are some healthy snacks that she munches on her way.
Dinner: Vegan spaghetti or Sushi with peas and parmesan cheese- Being one of the low-calorie food items, sushi can be an excellent choice for weight loss. Vegan spaghetti can healthily fulfill your cravings. Both of these food items can aid in weight loss.
Diet Rules of Kendall Jenner
The 27-year-old American beauty's diet regime is simple yet healthy. She follows a relaxed diet and that is the secret of her charm and elegance. Let us examine some of the major aspects of Kendall's diet and what makes it unique.
Her diet is full of liquids- Kendall is a big fan of lemongrass tea and she starts her day by drinking a cup of it. Sometimes she drinks around 12 cups of tea. According to her, it keeps her cravings away and provides energy for the whole day. She also drinks a lot of water. For her, water is an important part of her diet. Drinking water can reduce unwanted appetite and cravings. It is a healthy way to keep in shape and improve health.
She loves snacking: This supermodel is not against snacking. Instead, she finds it an amazing option to keep her full and balance blood sugar levels. Kendall snacks on nut butter and her favorite is Justin's Peanut Butter. Some of her other favorite snacks are carrots and hummus, Twix, almonds, and fruit juice.
Grilled chicken and brown rice: Her main course meal includes grilled chicken and brown rice. Sometimes she adds raw veggies to this meal. Brown rice is an excellent choice for weight loss compared with normal white rice.
Kendall loves frozen yogurt: In many of her interviews, Kendall has revealed that she loves frozen yogurt. Even though she wants to eat it every day, she doesn't do that. Instead, she treats herself to a cup of frozen yogurt twice a week. Her favorite is the classic tart flavor from Go Greek.
No shame in cheat treats: For Kendall, diet doesn't mean a strict rule of eating. She also loves to engage in unhealthy foods like the rest of the world. Her cheat meals include pizzas, fried chicken, and pasta. Her favorite pizza spot is Craig's restaurant in Hollywood. She also indulges in vegan spaghetti Bolognese from the same spot.
Kendall is not the advocate of any strict diets and eliminating some kinds of foods. Yet she reduces the intake of dairy products to prevent acne. So she bans some dairy products.
In brief, we can sort out the major food items in the Jenner list. Her diet includes a set of nutrient-rich food items that can fulfill her health needs and help her to stay lean.
What to eat?
Proteins: Lean chicken meat, eggs, seafood, etc
Wholegrains: Brown rice, oats, etc.
Vegetables: Carrots, tomatoes, broccoli, avocado, cucumber, etc.
Drinks: Lemongrass tea, water, coffee, etc.
Snacks: Hummus with veggies, peanut butter, carrot sticks, etc.
What not to eat?
Ice cream
Yogurt
Cheese
Butter
Milk
Kendall Jenner Fitness Style
Along with following a healthy diet, Kendall also finds time to exercise. Being a supermodel, she must have a proper workout schedule that can tone her body. As she is coming from a family full of fitness freaks, no doubt Kendall is fond of working out. Her fitness trainer is Gunnar Peterson, one of the acclaimed fitness coaches in Hollywood.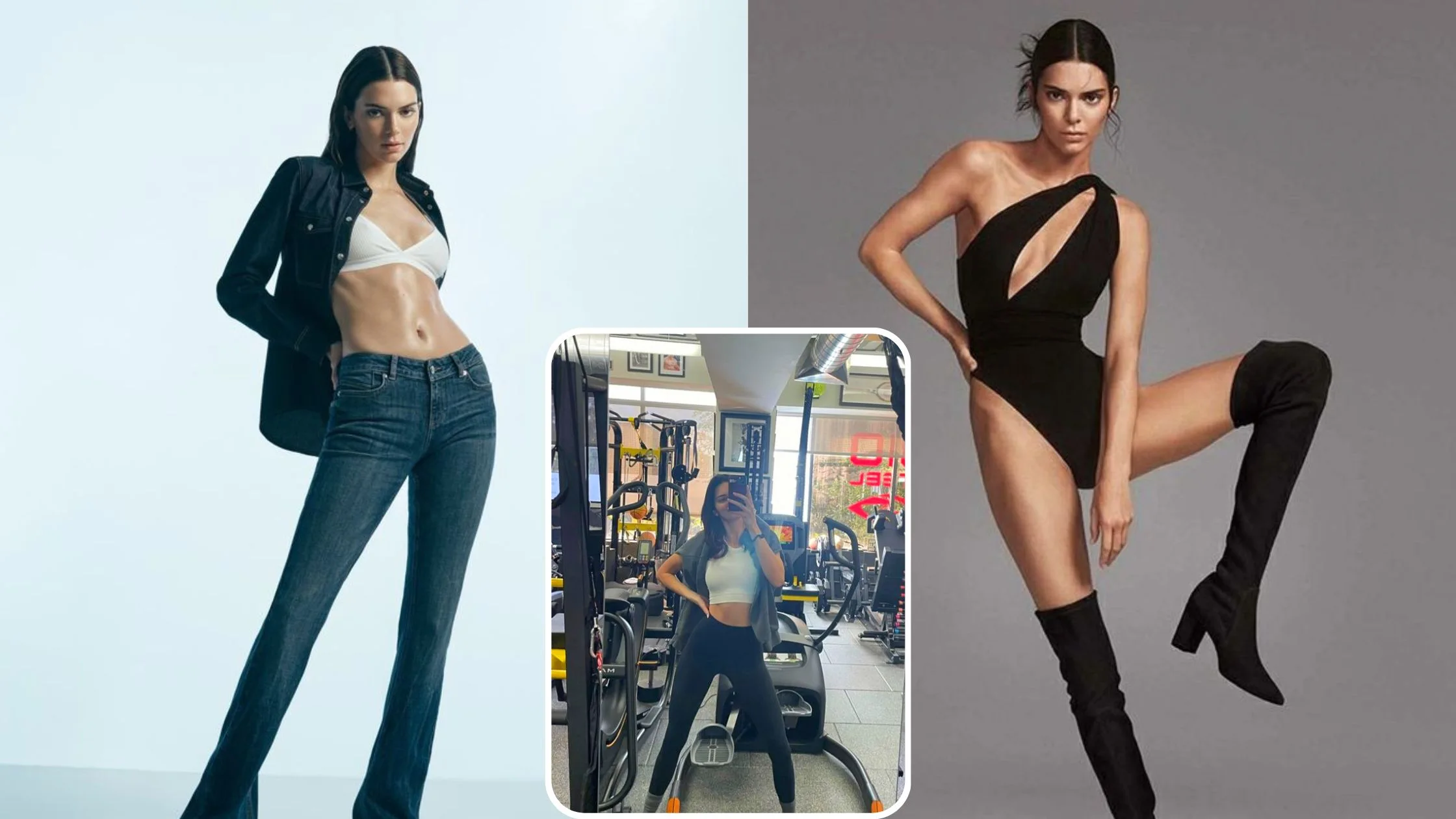 Kendall spends 5 days a week exercising. She wakes up at around 6 AM and reaches the gym by 7 am. She engages in strength training and weight lifting. Apart from that she also loves hot yoga, high-intensity workouts, and kickboxing. The details of her workout routine are given below:
Kendall Jenner Fitness Routine
Forearm plank: 30 seconds- Kendall practices forearm plank for 30 seconds each. Doing them consistently can strengthen your abs, legs, and core.
Hand plank: 30 seconds- By practicing hand plank, you can enhance your shoulder stability and improve your core strength.
Forearm side plank: 15 seconds per side- These can build strength for core muscles, shoulder, and upper back.
Side plank elbow to knee crunches 5 reps per side- This workout can improve abs, glutes, and hip flexors.
Forearm plank with around-the-world arm and leg raises 15 seconds- It can strengthen your whole body and maintain posture and stability.
Alternating knee to elbow forearm plank:10 reps- Many muscles get the benefit of working this out. Some of them are abs, glutes, hip flexors, obliques, and shoulders.
Bicycle crunches: 30 seconds- Kendall engages in bicycle crunches as part of her workout regime. It is one of the crucial parts of abs exercise. Practicing them consistently can improve core movements and help lose belly fat.
Raised toe touches 30 seconds- This exercise targets muscle groups such as transverse abdominals, obliques, and rectus abdominis.
Rocking hands plank 15 seconds- It is a workout that can improve core strength and shoulder stability.
Bent knee jack knives 15 seconds- Working out this exercise can improve your upper and lower abdominal muscles.
Russian twists:15 reps- One of the popular workouts among athletes, the Russian twist can help build core strength and shoulder muscles.
Crunches: 20 reps-For people who want a six-pack muscle, crunches are mandatory to practice.
Donkey kicks: 15 reps per side- Donkey kicks can tighten glutes and core muscles. They mainly target the gluteus maximus and medius muscles.
Workout And Diet Tips From Kendall Jenner
The secret behind Kendall's fine body and spectacular beauty is her unique fitness style. From her fitness and diet style, one can learn a lot. Some of these are given as tips for your convenience.
◼ For Kendall, taking proper rest is the key to her weight loss and health. Any kind of workout or diet is useless if you are not having ample rest. She makes sure to get at least 7 to 8 hours of sleep at night. This is the secret behind her looks and body.
◼ More than being perfect at what you do, being consistent is the key to success. Whatever the hurdles are on the way, not giving up can make one reach their final goal.
◼ Planning. Kendall plans her exercises the night before. This helps to make them practice the next day.
◼ She hates restrictions. Her diet and fitness routine consist of having everything in moderation. If you love to have some cheat meals, there is no shame in that. Kendall occasionally indulges in her cheat meals and for her eating what you love is very important.
◼ Do not compare. According to her, comparing another's body with ours is a huge injustice. Just focus on yourself, and do the work.
---
You might also like to read: Gigi Hadid Diet And Workout Routine: How She Maintains Her Body!
---
Bottom Line
On reaching the final part of the article, one can understand that Kendall Jenner follows a diet that relies on moderation. She doesn't limit herself from eating certain foods. Instead, she believes in eating in moderation.
Kendall has attributed a large share of her time to fitness. She engages in strength training and abs workouts. Along with that, she also does hot yoga and kickboxing. A systematic diet and fitness regime is the secret behind the beauty and physique of Kendall Jenner.
FAQs
---
Q. Does Kendall take any supplements?
In an episode of the Kardashians, she was seen praising the benefits of NAD Supplementation. From this, one can assume that she might be taking it.
Q. How many hours does Kendall spend in the gym?
She hits the gym by 7 AM and workouts for one hour.
Q. What are the main workouts for weight loss Kendall?
She does a lot of planks and squats. Along with that she also does strength training and weight lifting.
Q. Is Kendall Jenner a vegan?
No. She eats a lot of animal products.
Q.  Is Kendall on any specific diets?
No. She doesn't believe in any kind of fad diets that are popular among celebrity circles. Instead, she likes to enjoy what she is eating and chooses nutritious foods.