Blackpink Jennie Diet And Workout: How The Korean IT Girl Stays Fit?
Jennie Kim is one of the most famous and popular singers of the K-pop band Blackpink. Apart from being a wonderful singer and rapper, she is well-known for being a fashion icon and influencer. Her popularity has made her the face of several brands and deals.
Jennie enjoys a huge fan base. Her day is packed up with shootings, rehearsals, and public events. But despite all these engagements, she managed to stay fit. She follows a rigorous diet plan and workout schedule to maintain her figure. Let us explore what she does to stay fit and fine and draw inspiration from her in the long run.
Blackpink Jennie Body measurements
Jennie has an iconic body that inspires a lot of women around the world. The details of the same have been given in the following way:
| | |
| --- | --- |
| Full Name | Jennie Kim |
| Date of Birth | January 16, 1996 |
| Height | 1.62m/5 feet 3 inches |
| Weight | 50 kg (110 lbs) |
| Waist | 22 inches |
| Chest | 34 inches |
| Hip | 34 inches |
| Body Complexion | Fair |
Blackpink Jennie Diet Plan
Diet plays a vital role in weight loss and staying fit. It is only with the help of a balanced diet that a person can get the requisite supply of necessary vitamins, minerals, and nutrients. Therefore, Jennie eats a balanced diet and avoids all her cravings to the maximum possible extent.
She also refrains from consuming salt in her daily meals because excessive salt increases swelling in her eyes, face, and body. The details of her specific meals have been given: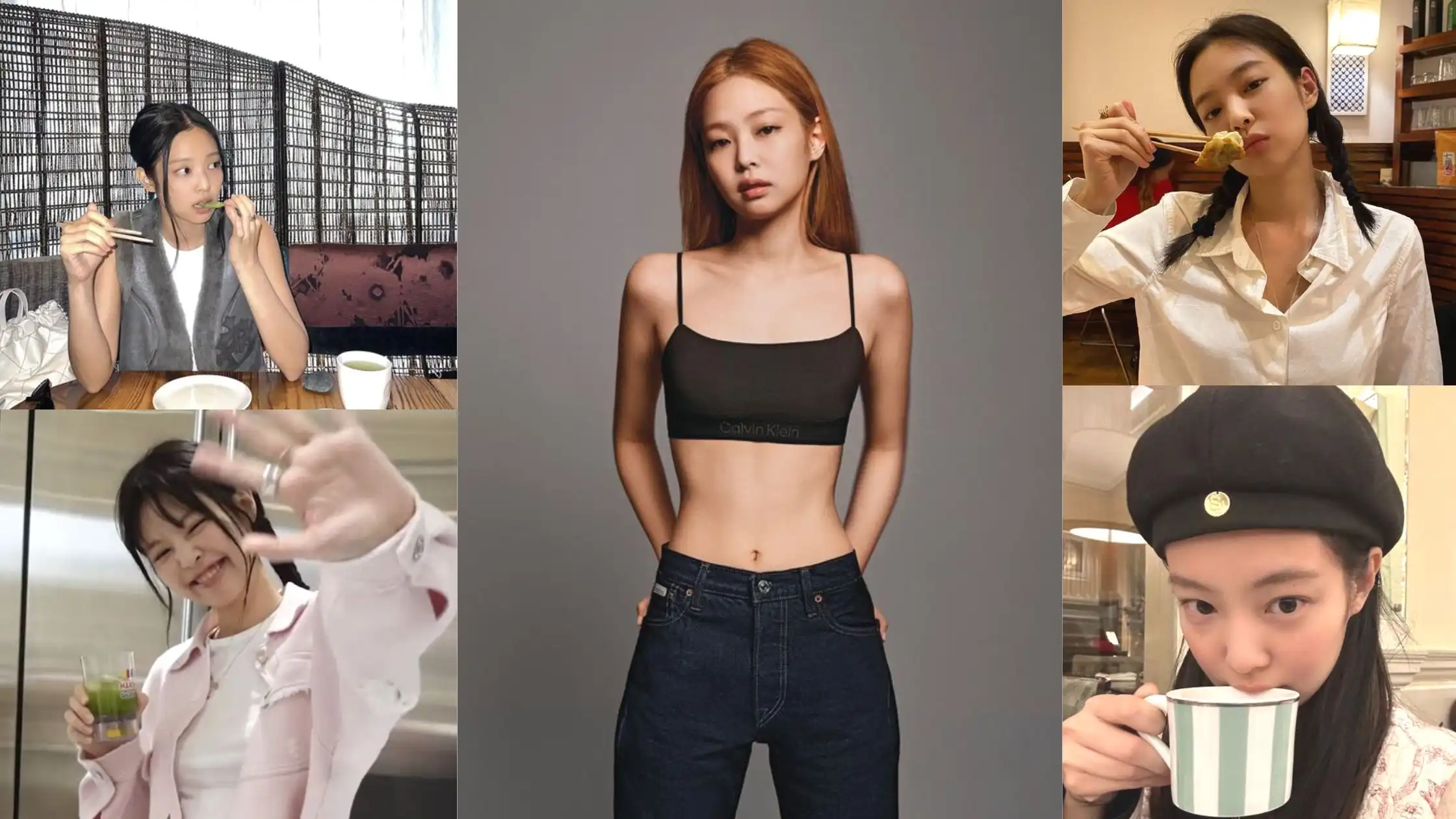 Breakfast:
Her first meal of the day is warm water. She prefers lukewarm water with three drops of honey added to it every morning when her stomach is empty. According to her, this lukewarm water is very beneficial to cleanse her digestive tract of all the toxins. It also adds glow to her skin.
After a gap of 60-120 minutes, she prefers having some fruits, whole grains, and toast as her breakfast in the morning. She uses brown butter and does not add sugar to her diet. She also prefers having porridge on alternate days. Her breakfast spread is infused with the goodness of fiber, proteins, and minerals such as phosphorus and zinc. She undertakes a quick working-out session after her breakfast.
Lunch:
Her lunch is also sorted. She prefers having some salad with avocados. She admitted that her afternoons are very hectic. She is busy with shooting schedules and recordings. Therefore, it is not feasible for her to have a heavy lunch.
Eating too much for lunch is unsuitable because it makes you feel sluggish and bloated. Jennie loves to have avocados in her lunch. This fruit is very beneficial for the human body as It helps to improve metabolism, boost digestion, and increase physical strength. She prefers adding cherry tomatoes, beetroots, cabbage, and spinach to her salad.
This wholesome diet is responsible for providing her with an adequate supply of proteins, carbohydrates, and vitamins such as vitamin A, B12, and vitamin K. Her diet includes essential fats that protect the body and enhance immunity.
Jennie concentrates a lot on the variety of fruits and vegetables she adds to the salad. This is her heaviest meal. Sometimes, instead of avocados, she prefers thick avocado smoothies and shakes. She loves to garnish her salad with olive oil and sesame seeds.
Dinner:
She remains consistent with her choice of dinner. She eats porridge and detox juice at night. She prefers having a minimal yet wholesome dinner. Her dinner is usually minimal in quantity and wholesome regarding its nutritional value.
She is usually done with her dinner before 8 pm every day. She believes her dinner should be half her eating potential at night. Jennie Kim loves to experiment with her detox drink. She tries different flavors and compositions to make her dinner more interesting and useful.
Cheat meals:
Jennie Kim loves sweets and chocolates. However, she does not have them daily. She has already fixed a cheat day for herself once every month. She recently explained the happiness and joy she experiences while having cheat meals.
She prefers burgers, fried chicken, bacon, french fries, scrambled eggs with extra cheese, pizza, and every other delicacy she otherwise craves. This is the best day of the month for her.
Blackpink Jennie Workout Schedule
Eating a balanced diet is very crucial for weight management. However, it must be combined with regular and consistent exercise for best results. Exercising makes a person fit and tones the body.
As Jennie Kim is a fitness freak, she tries to diversify her working out schedule throughout the day. Her workout plan is very rigorous and has been helping her to stay fit and slim. The details of her workout routines are given below:
Pilates:
Her favorite workout pattern is Pilates. She undertakes her pilates program during the morning hours at her gym. She recently acknowledged the important changes that Pilates has introduced to her body.
Pilates exercises can strengthen her lower body. They also help to increase flexibility. She attributes her perfectly toned body to Pilates itself. She practices Eiffel Tower exercises, crunches against the wall; side crunches against a wall, child's pose, leg circles, and leg lifts. She practices these exercises daily and consistently follows her routine.
Yoga:
It was in the year of 2017 that she preferred undertaking yoga. Yoga helps to stay healthy, fit, calm, and composed. Yoga helps to strengthen both the mind and the body.
Yoga has always been very beneficial for her. This helps to provide flexibility to her body as well. However, after continuing yoga for about 3 years, she switched to Pilates in 2020 and until now has been practicing the same only until now.
In a recent interview, she expressed her desire to undertake flying yoga again. Flying yoga is an aerial version of yoga. It uses silk sheets as straps. These straps are used to support the movement of the practitioner. It is a great way to exercise and stay fit. A single session of flying yoga can be very beneficial to shed hundreds of calories. It showcases effective results and also tones your body.
Also read: Blackpink Jisoo Diet & Workout: How The Visual Queen Maintains Her Body?
Dancing:
As she is a K-pop idol, it is not surprising that she loves dancing. She reserves some part of the working out schedule for dancing as well. She practices dancing with her fellow BlackPink members. As their BORNPINK Tour is going on, dancing is kind of like an inevitable part of her life now.
Salsa and hip-hop are her fortes. She has successfully pulled off many international and Korean shows. She treats dancing as her therapy. It is one of her passion as well along with singing and rapping.
Jennie's Way Of Living In A Nutshell
Jennie Kim is one of the most popular stars in Korea. She stays very particular about the food choice and the type of exercise. She is one of the most careful members of the band and puts significant effort into maintaining her diet.
She refrains from having sodium to maintain herself in shape. She gives due importance to the timings of the food and avoids late-night munchings. She prefers having simple food which is easy to digest. She drinks a lot of water every day to stay hydrated. Consumption of water also helps to flush out excessive toxins from the body. Her diet schedule and exercise pattern are followed by many of her fans.
She is an active gym freak and does not like to skip her schedule at any cost. She follows her self-made schedule as it is and does not amend that until and unless there is an emergency. It is important to note that combining a good diet and exercise has always proved beneficial for her.
She loves to enjoy her cheat meals greatly but restricts such meals to only one day. She has good self-control and does not require a personal trainer or tutor to instruct her on the dos and don'ts. She takes proper care of her health and gets frequently tested to diagnose any infection or acute illness she is suffering from.
Final Take
Jennie Kim is an inspiration in herself. She motivates all her fans to stay fit and healthy despite their busy schedules. She also appears in various talk shows and podcasts. She shares her secrets to remain fit. These tips and secrets are essential to benefit oneself with the same advantages she is suffering from.
Jennie is known for working on her metabolism every time. She gave up junk for two years to improve her metabolism. The strategy worked for her. It is only with the help of a good metabolism that she does not gain weight despite galloping excessive calories during her cheat days. This is the secret to her staying fit.
Check out: BTS Jungkook Diet And Routines: The Secret Behind His Fit Body!