Megan Thee Stallion Weight Loss: Her Fitness Routines, Diet, And More!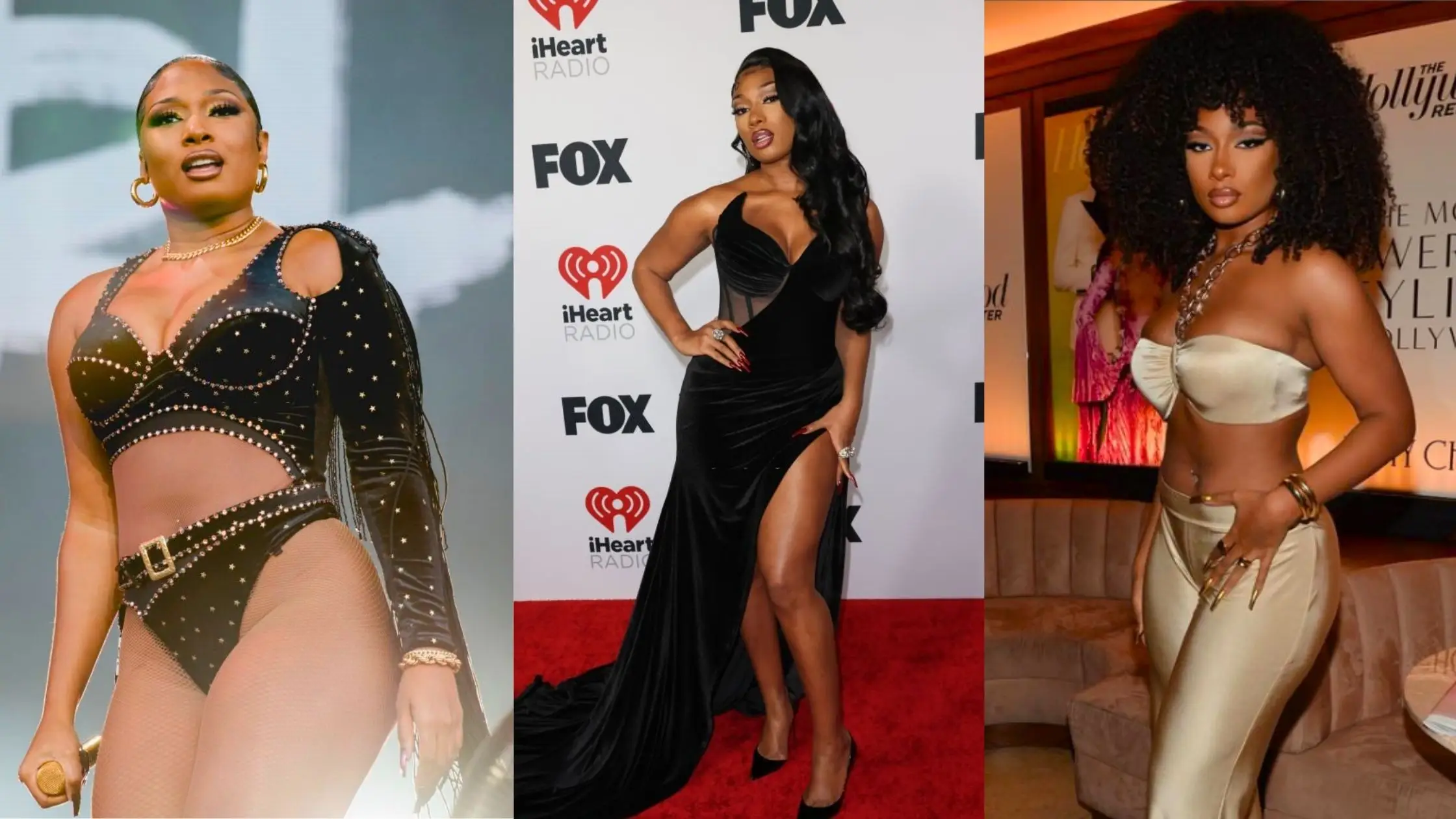 American female rapper, Megan Thee Stallion is a household name in the rap music industry. By exploring mature and bold musical themes, she became a sensational phenomenon over time. Apart from music, she inspires many with her bold stances and motivations.
For her followers, it will be familiar that she often advocates having a healthy body. Her social media feed has workout videos where she inspires others to lose weight and stay in shape.
In this article, we will be exploring how Megan Thee Stallion lost weight and what are some of her diet and fitness secrets. So enjoy a wholesome reading and find out the weight loss secrets of Megan Thee Stallion!
About Megan Thee Stallion
Known for dealing with bold, explicit, and sensual themes in music, Megan Thee Stallion is a professional rapper and singer from Texas, United States. She popularised the catchphrase, 'Hot Girl Summer', through her attractive appearance and unshakeable confidence.
She is known for freestyling in her music. Megan was honored with awards such as Grammy, MTV Video Music Awards, BET Awards, American Music Awards, etc. Her famous songs include Sweetest Pie, Thot Shirt, Savage, Hot Girl Summer, Big Ole Freak, Cognac Queen, etc.
Megan Thee Stallion: Body Statistics
| | |
| --- | --- |
| Full Name | Megan Jovon Ruth Pete |
| Date of Birth | 15 February 1995 |
| Height | 5 feet and 10 inches or 178 cm |
| Weight | 148 pounds or 67 kg |
| Body Measurements | 39-28-43 or 99-71-110 cm |
| Face Shape | Oval |
| Figure | Voluptuous |
| Dress Size | 8 (US) or 40 (EU) OR 12 (UK) |
Megan Thee Stallion: Weight Loss Journey
Famed for dealing with mature and explicit themes through her music, Megan Thee Stallion is a body-positive advocate. In many instances, she has clarified that losing weight necessarily doesn't have to mean being slim.
She aspires to be healthy and improve her body and that is what weight loss is for her. On glancing through her social media handles, it can be seen that she shares her workout routines there. Through these videos, she wants to motivate others to get fit.
She calls this endeavor a 'hottie boot camp' where she calls for her fellow women to join on a fitness journey along with her. By adapting to a healthy diet and following an intensive fitness regimen, the rapper could lose more than 10 pounds in a week.
In the coming paragraphs, we can learn how Megan lost weight and follows a healthy lifestyle.
Also read: Ariana Grande Weight Loss: Does The Pop Queen Have Eating Disorder?
Megan Thee Stallion Weight Loss Diet
Under the special training of Timothy Boutte, Megan Thee Stallion changed her diet and this resulted in her weight loss. It was at a point where she realized that whatever she ate was not good enough for her health.
The food she ate slowed her down and it was then she wanted to change the course of her diet journey. The details of what she eats daily as part of her weight-loss diet are provided below.
Morning Snack– Megan's morning snack usually consists of a pre-workout smoothie. This is made using blackberries, bananas, strawberries, kale, almond milk, organic peanut butter, etc. The morning smoothie provides her with ample fuel for exercising.
Breakfast– She has her breakfast in simple English style. It contains a vegetable omelet and fruit salad. These items can provide her with enough protein and fiber intake for the rest of the day.
Lunch– Turkey salad with avocado and vegetables/Grilled chicken with vegetables
Dinner– Her dinner usually contains salmon with salad. Megan tries to include a lot of proteins and vegetables in her dinner.
Snacks– She goes for healthy snacks such as fresh-cut fruits and nuts. Megan also likes to indulge in a healthy yogurt parfait with granola and berries.
Megan Thee Stallion Fitness Routine
As part of her Hottie Bootcamp fitness routine, Megan has been documenting the progress of her fitness online since 2021. Along with sharing her fitness regime, she has also opened up about ditching her junk food addiction.
Megan loves to motivate her followers by setting clear objectives ahead of time. Through her Instagram posts, it can be understood that she works out from her home gym. She works out under the supervision of her trainer.
Megan's fitness routine includes a variety of exercise patterns such as cardio, HIIT, yoga, etc. She often mixes up her schedule with Pole dancing and sand running. Some of the fitness methods through which Megan has lost weight include:
Check out: Gigi Hadid Diet And Workout Routine: How She Maintains Her Body!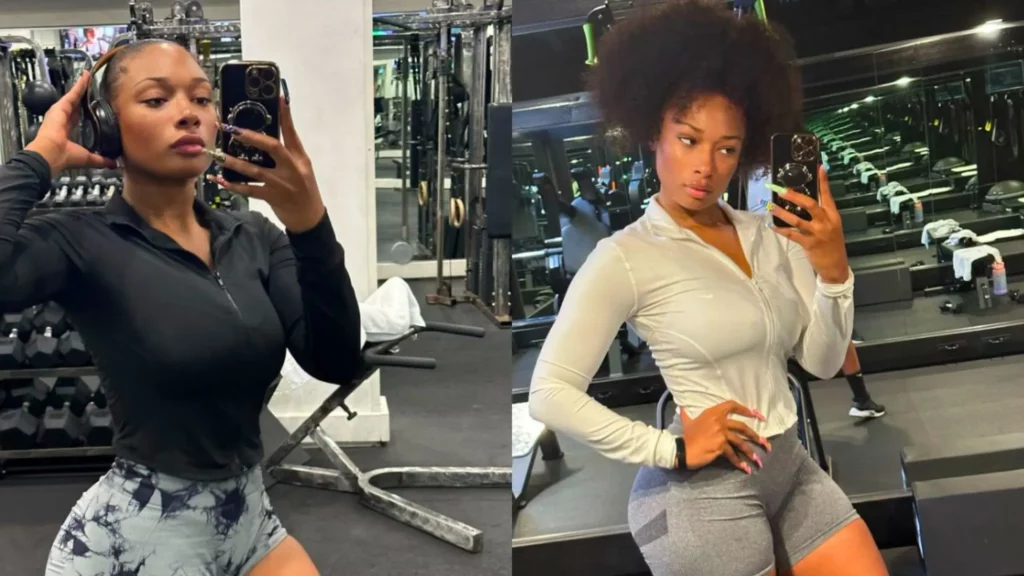 ✅Cardio– Cardio is one of the favorite fitness routines of Megan. She often runs in Hollywood park for about 3-5 miles.
✅Leg exercises– Along with cardio, Megan enjoys doing some leg exercises. Some of the leg exercises she does are Squats, Pile squats, Lunges, Hip abduction, Boxing squat jumping, Plank leg lifts, etc.
✅Yoga– In many of her interviews, Megan has revealed about doing yoga. Yoga can help in myriad ways to tone up the body. It also serves a meditative purpose and improves both mental and physical health.
Wrapping Up
So on wrapping up the article, you can understand that Megan Thee Stallion is a woman of determination and strength. She follows a healthy diet and fitness regimen to stay in shape. But at the same time, she is against the conventional weight loss modalities.
Her health is of prime importance to her and that is why she is engaging in fitness and diet routines. As part of weight loss, Megan ditched her junk food habit and started drinking a lot of water. Her diet usually consists of fresh vegetables and fruits.
She also trains under her coach and does cardio, leg workouts, and yoga. All these consistent practices have helped Megan to stay in shape and lose weight.
FAQs
Q. What is the weight of Megan Thee Stallion?
As per the recent data, she weighs around 148 pounds or 67 kg.
Q.  How much time Megan spends on elliptical-based aerobic warm-ups?
She spends around 15 minutes on elliptical-based aerobic warm-ups.
Q. What are some of the leg exercises Megan does?
As part of her leg exercise, Megan does Squats, Pile squats, Lunges, Bridge of the wall, etc. 
Q.  Who helped Megan Thee Stallion to change her diet?
Her trainer Timothy Boutt inspired Megan to change her diet. 
Q. What are some of the weight loss tips from Megan?
Drink a lot of water. Ditch junk food. Eat freshly produced items.