Paleo Diet – A Complete Guide For An Absolute Beginners!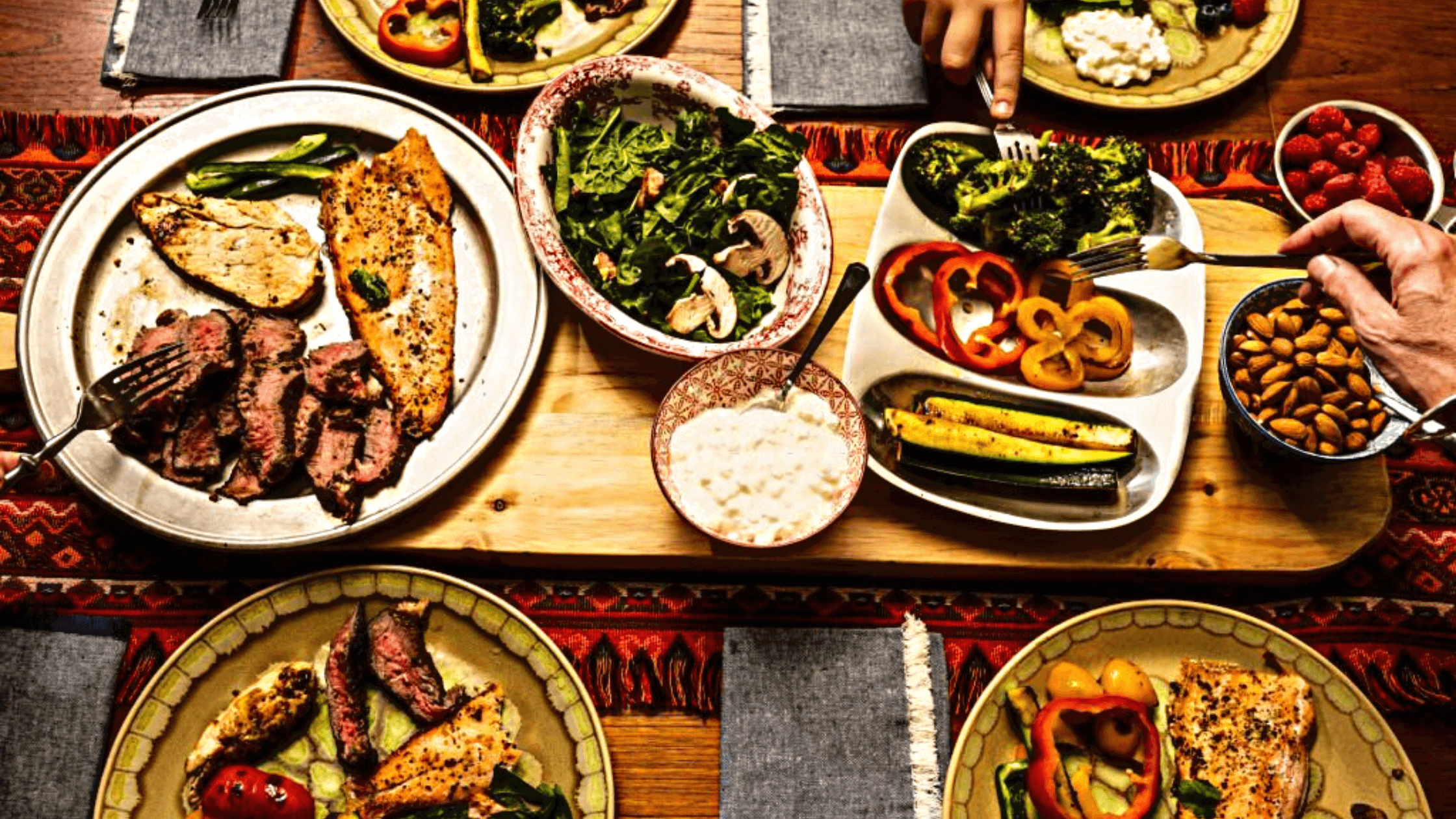 Different eating plans, menus, and nutritional manuals have increased in the past decade. People become more health-conscious and look for strategies to improve their diet. The Ketogenic Diet, the Mediterranean Diet, the Intermittent Fasting Diet, and the Paleo Diet are just a few of the most well-known eating plans and diets.
Paleo Diet assumes our predecessors thrived on unprocessed, whole foods they hunted and gathered. Fatty fish, lean meat, vegetables, fruits, seeds, and nuts are all excellent examples of these foods. Paleo is popular because of its origin. It also proposes unconventional diets.
Paleo Diet – What Can I Eat On The Paleo Diet?
The paleo diet attempts to recreate the eating habits of our ancient hunter-gatherer ancestors. Researchers believe that human ancestors' diets consisted of whole foods, though it's impossible to know what they ate in different parts of the world.
Hunter-gatherers likely had much lower rates of lifestyle diseases like obesity, diabetes, and heart disease because they followed a diet based on whole foods and were physically active. Indeed, many studies have shown that this diet can result in substantial weight loss (without counting calories) and significant health improvements.
This article serves as a beginner's guide to the paleo diet by outlining the basics of the diet and providing a basic meal plan.
What Is the Paleo Diet?
The Paleo diet is an eating and lifestyle approach that aims to mimic the habits of our prehistoric ancestors as closely as possible. Food was obtained by hunting and gathering by humans between 2.5 and 10,000 years ago.
Therefore, if you want to follow the Paleo diet, you should only eat things that your forefathers could have found through hunting and gathering. If cave dwellers didn't eat it, you probably shouldn't either, and that's pretty much the gist of the Paleo diet. Stone Age diet is another name for the Paleo, hunter-gatherer, or the "caveman" diet.
Then agriculture developed, and the foundation for the current social order emerged. The human diet eventually expanded to include grains, dairy, and legumes. Moreover, that doesn't even account for highly processed foods like soda, French fries, and sweets.
Paleo advocates eating the kinds of foods that our ancestors did. The dietary plan is predicated on the hypothesis that our genetic makeup is poorly adapted to the food habits of the industrialized, agricultural society to which we have evolved.
Grains and legumes, for example, became more accessible due to farming. Further, it marked the first widespread use of dairy products. Animals raised for food also had their diets altered due to agriculture.
According to proponents of the paleo diet, the human body cannot keep up with the rapid pace of dietary change. Obesity, diabetes, and heart disease may all have their roots in this mismatch. However, proponents of the Paleo diet argue that modern humans lack the evolutionary adaptations necessary to digest these foods properly.
They conclude that this dietary shift is responsible for the rise in several diseases and disorders, including obesity and cardiovascular disease.
What Are the Benefits of the Paleo Diet?
Compared to the advantages of eating healthy on any diet, the Paleo diet stands out for being relatively simple to adhere to.
All parties have established that the typical Paleo adherent experiences increased energy and other positive effects within the first few days, followed by weight loss and leaner body composition within a few weeks.
Foods to Avoid on the Paleo Diet:
Here is the food list to avoid on the Paleo Diet is merely a synopsis of what you think to be non-Paleo Diet foods, as much of the Paleo Diet is open to disagreement.
• Yet More to consider
Avoiding some items while following the Paleo diet may not be as simple as you thought. This is because there is a diverse selection of foods, methods for producing foods, practices for animal husbandry, and even philosophies.
There is a high learning curve in front of them; you will make mistakes, but in the end, you will acquire vital knowledge as you put your sensitivities to the test. There is a steep learning curve in front of us; you will make mistakes.
Recipes for Paleo Diet Foods:
Unfortunately, the Paleo diet is not an approach to eating that you should adopt. It's the right way to eat, and it requires us to consume only foods that were accessible during the Paleolithic period. Fruits, meat, veggies, and nuts are all part of this diet plan, which has recently gained popularity.
Since these items were the only means of sustenance in prehistoric times, they will give necessary nutrients for your body.
Avoiding manufactured meals is a vital part of the Paleo lifestyle. To maximize health benefits, this diet permits only organic foods. Delicious Paleo diet meals could quickly fill in as the main course at any dinner.
The Top 15 Foods That Fit The Paleo Diet
What Does Science Have to Say About the Paleo Diet?
Recent scientific advances have opened the door for us to learn more about the paleo diet and its possible health benefits to decide if it should become a diet that doctors frequently suggest.
Scientists discovered that when compared to the control diet, the Paleo diet produced much more excellent short-term benefits in the following domains:
Measurements include waist size, triglyceride levels, blood pressure, high-density lipoprotein ("good") cholesterol levels, and fasting blood sugar.
Nutrition Journal Trusted Source recently published an analysis of multiple randomized controlled studies investigating the effects of the Paleolithic diet on various health outcomes and body composition variables.
Individuals who adopted a Paleolithic eating plan lost an average of 3.52 kilograms (7.5 pounds) and saw reductions in their waist size and body mass index (BMI) compared to those who followed conventional dietary recommendations.
Meal Plan Illustration for a Paleo Diet
Monday
Eggs and vegetables sautéed in olive oil for breakfast—one serving of fruit.
Chicken salad with olive oil for lunch, please. A handful of nuts.
Burgers (bun-less) fried in butter, served with grilled vegetables and salsa for dinner.
Tuesday
Take bacon and eggs with a side of fruit for breakfast.
Lunch: burgers from the night before.
Salmon cooked in butter, served with a side of vegetables.
Wednesday
Meat and vegetables for breakfast (leftovers from the night before).
The typical lunch menu includes a meat and vegetable sandwich wrapped on a lettuce leaf.
Dinner will be a stir-fry with ground beef and vegetables. I want some berries with that.
Thursday
For breakfast, the recommendation is eggs and bananas.
Stir-fry from the night before for lunch. Some nuts, roughly a handful's worth.
Tonight's dinner: fried pork and greens.
Friday
Eggs and vegetables sautéed in olive oil for breakfast.
Chicken salad with olive oil for lunch, please. A handful of nuts.
Steak and sweet potatoes for dinner, please.
Saturday
A breakfast of bacon, eggs, and toast, a glass of juice and a piece of fruit.
Steak and veggies from last night's dinner are today's lunch.
For dinner, bake some salmon and serve it with roasted vegetables and avocado.
Sunday
Meat and vegetables for breakfast (leftovers from the night before).
The typical lunch menu includes a meat and vegetable sandwich wrapped on a lettuce leaf.
Tonight's supper: grilled chicken wings, veggies, and salsa.
Possible Risks of Trying the Paleo Diet:
Although cutting out entire food groups can aid in weight loss (see the popularity of the all-meat flesh-eater diet, which most dietitians do not recommend), you may be missing out on essential nutrients.
Some health experts warn against the paleo diet because it eliminates dairy, a good bone- and vitamin D-building calcium source. After a while, this could increase your risk of developing bone diseases like rickets, brittle bones, and osteoporosis.
In addition, many people experience anxiety because the diet is widely misunderstood as primarily focused on meat.
The diet can increase your risk of cardiovascular disease if you aren't careful about the kind of protein you eat. Red meat is an example of a food high in saturated fats. High blood cholesterol levels and an increased risk of cardiovascular disease are both associated with red meat.
Is a Paleo diet beneficial to heart health?
Some of you may be surprised to hear this, but yes! The heart can benefit significantly from following a Paleo diet, eating a high-fat diet, and having high cholesterol levels are not the primary causes of heart disease.
You should realize that eating too many refined carbohydrates (sugar) and having increased blood sugar levels is the leading cause of all cardiovascular disease.
Avoiding processed foods can help bring your blood sugar levels back to normal by following a Paleo diet. Unfortunately, many attempts to adhere to the Paleo diet are made with erroneous assumptions. Eating more meat and avoiding all grains is not the only way to be Paleo.
The problem is that hormones, pesticides, and chemicals are commonly found in commercially manufactured meats and poultry items nowadays. These toxic waste products are unpleasant yet lethal.
As a result, you experience more inflammation, a higher risk of cancer, and faster ageing. You can protect your heart from refined carbs, but not if you don't eat enough fibre.
Conclusion
The paleo diet is modelled after the diets that troglodytes and other hunter-gatherers likely followed to keep their weight in a healthy range. The paleo diet is not a set of rules and can be done in various ways, but the basic idea is to avoid processed foods and instead focus on fresh, whole foods.
People follow the Paleo diet plan to revert to their caveman eating habits. Grain products, dairy products, and processed foods should all be avoided in favor of whole foods. A Paleo diet is a healthy eating plan that supplies you with protein, nutrients, and more.
Weight loss, normal blood pressure, and improved insulin sensitivity are all possible with the paleo diet. Even if you believe that the Paleo diet will benefit you, you should still consult with a dietitian before starting the diet. The essential benefit is that it helps you cut back on the unhealthy empty calories you might otherwise consume.
Dangerous and nutritionally deficient, such food should be avoided at all costs. Change may seem too drastic initially, but baby steps are always an option. To begin, try switching to whole foods and ditching processed meals entirely.
FAQ: